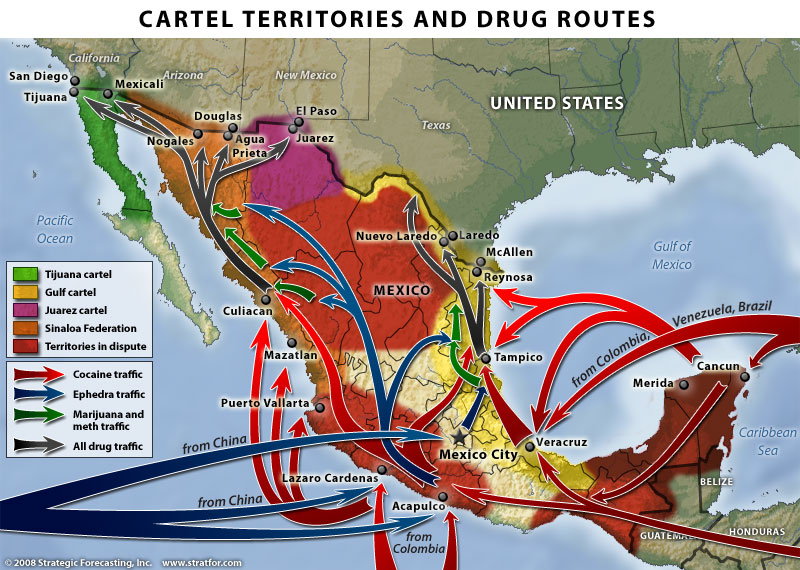 courtesy of STRATFOR
I can't remember when there wasn't a war on drugs and when Mexico wasn't at the center of our 'war' (of sorts). And I can't remember when it wasn't easy to buy any drugs you want in the US or in Mexico.
Since President Felipe Calderón took office in December 2006 and initiated the "War on Drugs," murder and violence rates skyrocketed. In January 2012, the Calderón Administration quit publicly reporting organized crime related murders; possibly as part of its political re-election strategy.
Leticia Ramírez de Alba
is reporting that 88,361 individuals died during the Calderón administration. Ramírez de Alba is part of México Evalúa, and reported the above mentioned number in the "Visible and Invisible Victims" (IVVI) index.
Since December 2006 and the implementation of the Calderón counter-drug offensive, murder rates have soared in Mexico. These murder rates have directly impacted families as murders are associated with other crimes. Between December 2006 and March 2012, 120,692 people were victims of kidnapping, extortion, or murder in Mexico.
Considering that the average household is comprised of three to four people (according to the latest figures from the National Institute of Statistics and Geography; INEGI), for each victim, some 366,478 people close to them were also affected.
Before the above mentioned study done by Leticia Ramírez de Alba, Reforma and other media sources were publishing murder rates that could be directly attributed to organized crime. Yearly totals reported by Reforma were as follows: 2,119 in 2006, 2,275 in 2007, 5,207 in 2008, 6,587 in 2009, 11,583 in 2010 and 11,757 in 2011. As it currently stands, an estimated 135,779 individuals will have been affected by kidnapping, extortion, or murder by the end of 2012.



The Federal Investigation Agency (Agencia Federal de Investigación, AFI), Mexico's FBI, officially disbanded on Thursday, July 26, with the Federal Ministerial Police (Policia Federal Ministerial, PFM) assuming operations in its place. This has essentially removed law enforcement from control of the Attorney General's office (PGR). Does anyone think that this will make a noteworthy difference?
When President Barack Obama is defeated in November 2012, will President-elect Mitt Romney start yet another war on drugs in 2013? If so, what will it look like and what good will it do? And will Mexico go along with it?